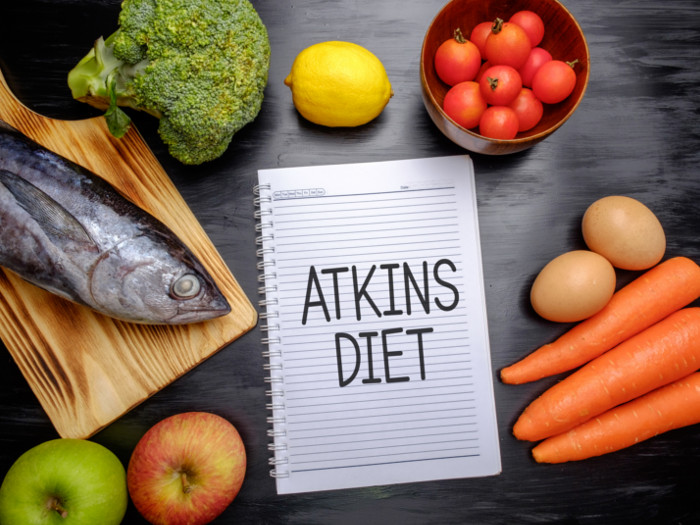 Recently I held a weekly meeting with one of my clients John.
As we were discussing which types of diets would best suit his lifestyle, I had to give it some thought.
What diet could provide him the structure necessary for success?
As a man that craved structure and didn't want to give up carbs forever, I had just the thing in mind…
In today's day and age, low-carb appears to be the new diet trend.
Although it has gained increasing popularity, low-carb dieting actually isn't new at all.
Sure keto, paleo, and the carnivore diet are prevalent today, but one man helped popularize a low-carb diet nearly 50 years ago.
Robert C. Atkins was a cardiologist who developed the Atkins diet in the early 1970s with the publication of his book Dr. Atkins' Diet Revolution. It became a hit and has sold over 45 million copies worldwide since it's release.
Dr. Atkins continued publishing books on his diet until his death in 2003. During his life, Atkins helped laid the foundation for low-carb diets that are still popular to this day.

What is the Atkins diet?
The main focus of the diet is carbohydrate restriction. The diet does not readily count caloric intake but instead focuses on consumption of high amounts of proteins and fats. As a result of low-carbohydrate intake, rapid weight reduction occurs.
What Steps are Involved?
Atkins is a four-step program structured to help people easily follow a low-carb diet.
Induction phase: the first stage is designed to recalibrate your body's metabolism. Unlimited amounts of fats and proteins are consumed, but carbohydrate is restricted to under 20g per day.
Weight loss phase: the next stage helps maintain ongoing weight loss. Carbohydrate intake is increased slightly up to 40g per day until the individual gets to within 10 pounds from their goal weight. Slowly nuts, low-carb fruits, and low-carb vegetables are added back to the diet.
Pre-maintenance phase: adds one to three servings per week of higher carbohydrate foods such as fruit or whole-wheat bread. During this phase the body becomes re-accustomed to carbohydrates.
Maintenance phase: once your desired weight is reached, the maintenance phase allows for up to 60g of carbohydrates per day. At this point you can increase healthy carb intake as long as you do not regain weight.

What Can You Eat?
The diet is high-fat, high-protein, and low-carbohydrate in nature. The majority of foods will include the following:
Meat sources: chicken, beef, pork, lamb, etc
Fish: salmon, mahi mahi, trout, etc
Eggs
Low-carb vegetables: kale, spinach, asparagus, broccoli, etc
Nuts and seeds: almonds, walnuts, macadamia nuts, sunflower seeds, etc
Dairy sources: butter, cheese, cream, yogurt
Healthy oils: olive oil, coconut oil, avocado oil
The diet is based around fatty protein sources with some vegetables and/or nuts. The main goal of the diet is avoiding carbohydrates.

What Can't You Eat?
All types of sugar and carbohydrate sources should be avoided while on the diet including:
Processed sugar sources: cakes, cookies, candy, ice cream, sodas, fruit juices
Grains: wheat, barley, rice, rye
Unhealthy oils: canola oil, soybean oil, corn oil, etc
"Low-fat" branded foods: usually high in sugar so they should be avoided
Other food choices that are initially removed from the diet, but can be added back in later phases include:
High-carb vegetables: carrots, turnips
High-carb fruits: apples, oranges, bananas, grapes
Legumes: beans, lentils, chickpeas
Starches: white potatoes, sweet potatoes

Why Try the Atkins Diet?
People may try the Atkins diet for several reasons including:
The Atkins diet may appear similar to keto at face value, but there are some differentiating factors. Let's take a look at some of the differences between the two.

How Does it Differ from Keto?
Although it has several overlapping characteristics, Atkins is different from the traditional keto diet in a few different ways.
Carbs are allowed after induction phase: the Atkins diet is similar to keto during the induction phase as it allows no high-carb fruits, high-carb veggies, starches or legumes. However, these foods are later added back to your diet in moderation on Atkins. Keto remains low-carbohydrate throughout the entire diet.
Structure is provided: the keto diet revolves around eating high-fat, low-carb foods. It provides no real structure outside of these confines. The Atkins diet on the other hand provides a specific, guided four-phase plan designed to help you lose weight.
The main difference between keto and Atkins is whether or not you permanently eliminate carbs from your diet. You should choose whichever diet suits your lifestyle best.
Are there Health Concerns?
People initially viewed the Atkins diet with extreme skepticism due to its focus on high-fat, high-protein foods. Some believed it could lead to cardiovascular problems, though these original beliefs have been proven to be misguided.
One potential pitfall of Atkins is a lack of caloric restriction. Caloric moderation should be practiced in any type of diet to avoid excess weight gain and other health problems. As I always tell my clients the best diet is the one you can stick to.
What Ever Happened to John?
After getting on the Atkins diet for six months, John was successfully able to lose 40 pounds. The diet structure helped helped him lose weight within the confines of his busy lifestyle. Today he still enjoys some carbohydrates from time to time - including his favorite glass of wine.
John still practices the Atkins diet and has kept the weight off now for over a year. It just goes to show you, the best diet is the one that works for you.
If you have tried the Atkins diet or trying it now, let me know what you think. Helping you achieve your health goals is my greatest joy in life.
Kindest regards,
Sean Torbati