Although I don't tune into television often, the other day day I came across a riveting special.
CNN Chief Medical Correspondent Dr. Sanjay Gupta travelled halfway across the world to a place where people don't just live longer, they almost forget to die.
It's no secret.
For decades, Japan has consistently been ranked as having one of the longest life expectancies on the planet.
In FACT, a small island of Japan has the greatest concentration of centenarians (people living to be 100+) in the world.
These people aren't just living longer lives, they're living BETTER lives.
When most people conjure up thoughts of a population over 100 years of age, they think of frail people struggling with mobility.
The people of Okinawa are not only physically adept but also stay mentally sharp at all times.
So what makes this small isolated group of islands off the coast of mainland Japan different from other populations in the world?
Here's three important philosophies we can learn from studying the Okinawa lifestyle.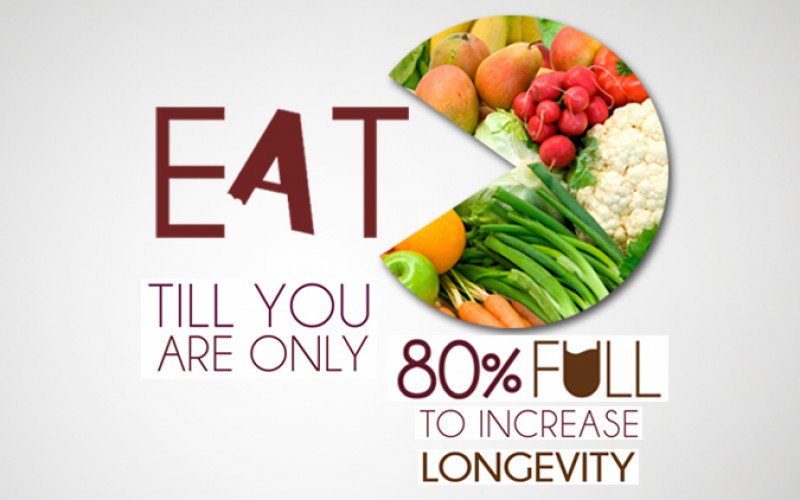 Hara hachi bu - Less is More
In America, most people are of the "clean your plate" mindset. While not being wasteful of food is an admirable trait, we need to look at portion sizes on a much deeper level.
In Okinawa, the residents preach a philosophy known as "hara hachi bu," translated as eat until you are 80% full. While the average American male consumes over 2,500 calories per day, the people of Okinawa eat closer to 1,900 calories.
From a biological perspective this makes perfect sense. It can take over 20 minutes for our stomach to send satiety signals to the brain. During this time, people consume several hundred more calories leading to habits of overeating.
One thing to take away from this mindset - eat slower, give your brain time to catch up to your stomach.
In the scientific community, it's well-known that eating less calories leads to improved longevity. A recent study performed by The Journals of Gerontology found that a 25% caloric restriction slowed biological aging.
While the exact mechanisms of caloric restriction on longevity are debated, what we do know is it can help you live a longer life.
But it's not just about how much you eat, but WHAT you eat.
Most meals in Okinawa are made up of whole foods with the same basic elements.
Foods commonly found in Okinawa meals include:
Rice, served at all meals including breakfast
Sweet potatoes
Goya, a variety of melon
Small serving of fish
Root vegetables
A portion of fruit
Miso soup
Green tea
While our diets don't have to be quite that diverse, we can make healthy choices based around a few common ideas:
Eat whole foods
Include a variety of plant-based food options
Eat small portions of protein
Okinawans are said to eat seven different fruits and vegetables and over 18 different foods per day.
This type of diet can be modified to our own specific goals and lifestyle. Whatever diet you choose, having a plant-based approach as the foundation proves to be beneficial.
Moai - Maintain Social Relationships
You won't find gyms or running tracks throughout Okinawa, but you will find a common sense of comradery and companionship.
"Moai" translated as "tribe" refers to an informal social group of people with common interests who care for one another.
People in Okinawa gather together every afternoon to play social games and talk with one another.
These social support groups start early in life as children and last until people are 100 years of age or older.
Traditionally, groups of five children were paired together at a very early age. At that moment in time, they make a lifelong commitment to one another.
Some of these "moai" groups have last 90 years or more.
How many people can say they've maintained the same friends for nearly a CENTURY?
Having this sense of community in one's life has been proven to help people live longer in cultures all over the world.
Ikigai - Have Purpose
In many parts of the world, people stop working and pass away early into their retirement years.
This shouldn't be a surprise.
People that stop working often times lose their sense of purpose in life.
In Okinawa, they preach the idea that purpose should increase with age. By having a reason to get out of bed in the morning, people are more excited about living every single day.
The Japanese don't even have a word akin to the American word "retirement."
They preach the idea that life is not ending as we age, but rather just beginning.
What can we learn from the Okinawan diet?
After researching the Okinawan diet, here are a few key takeaways we can all keep in mind in our daily lives.
While we may not eat dozens of fruit and vegetable varieties, we can strive to include whole foods as the foundation of our diets.
Social relationships shouldn't be taken for granted. Having friends and family in our lives can help us live happier, healthier, longer lives.
Live your life with purpose. Whether it's family, charity, or career have a reason to jump out of bed everyday.
While we don't have to live exactly like the people of Okinawa, we can improve our lives by incorporating a few of these key principles.
I don't just want you to live a healthier life. I want you to live a better life.
Be happy. Be healthy. Live your best life.
Kindest regards,
Sean Torbati